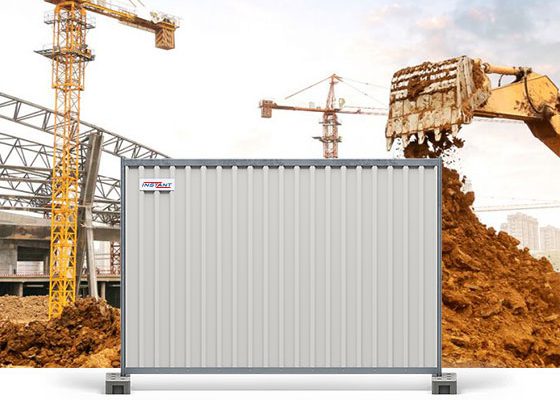 Smart panel – sealed construction fences
Instant expands its portfolio of construction fences with the new Smart panel – sealed construction fences. The panels are sealed hot-dip galvanized construction fences that are easy to install, transport and do not require special tools.
Tight construction fencing is practical where extra security and privacy is required. This is particularly relevant in densely populated areas. Smart panels limit the visibility and access of unauthorized persons to an area, as well as reducing the damaging effects of construction or renovation work on surrounding areas. Our fences are composed of secure, solid steel frame panels and are therefore highly effective at preventing access and visibility. The smooth surface makes them very challenging to climb over, reducing the risk of theft and vandalism.
The frames are filled with T18 trapezoidal sheets complete with hot-dip galvanized anti-corrosion protection. The system comes as standard panel (length 2.83m and 2.08m height), as well as door sections and car gate sections. We also offer foot, clamp, support and anchor accessories with all our fences, as well as options for easy storage, transportation and assembly.
Smart panel benefits:
Creates separation around a construction site
Limits visibility
Highly effective in central urban areas
Protects against noise and dust
Wind resistant
Climb-proof, prevents unauthorized access to the site
Provides security for people in the vicinity of the site
Solid construction for long life
Must be used in conjunction with support brackets or possibly fixed for wind protection.