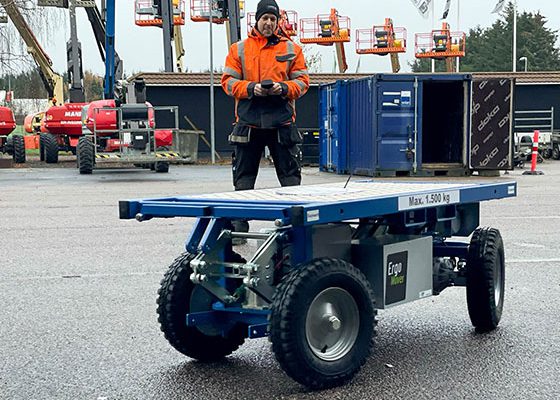 Ergomover Wireless launch
Introducing Ergomover Wireless. This is an innovation that complements our very popular Ergomover Lift&Go electric plasterboard trolley.
Ergomover Wireless is controlled by a wireless remote control and therefore does not have a separate guide rod that can limit the length of the load being transported. The machine is particularly suitable if you need to handle extra long loads or if you work in confined spaces. Steering and lifting are operated with a wireless remote control or cable. The machine has a lifting capacity of 1,500 kg.
The ErgoMover's powerful 24V operation ensures that all material transportation can be carried out without causing back pain or aching muscles and joints. The high battery capacity allows operators to work for a full day before the machine needs to be recharged via the integrated charger. The machine is also available with a practical turntable as an option.
Read more about Egomover Wireless here.
Read more about Ermover Lift&Go here.